IIMK LIVE PROGRAMS FOR ALUMNI ENTREPRENEURS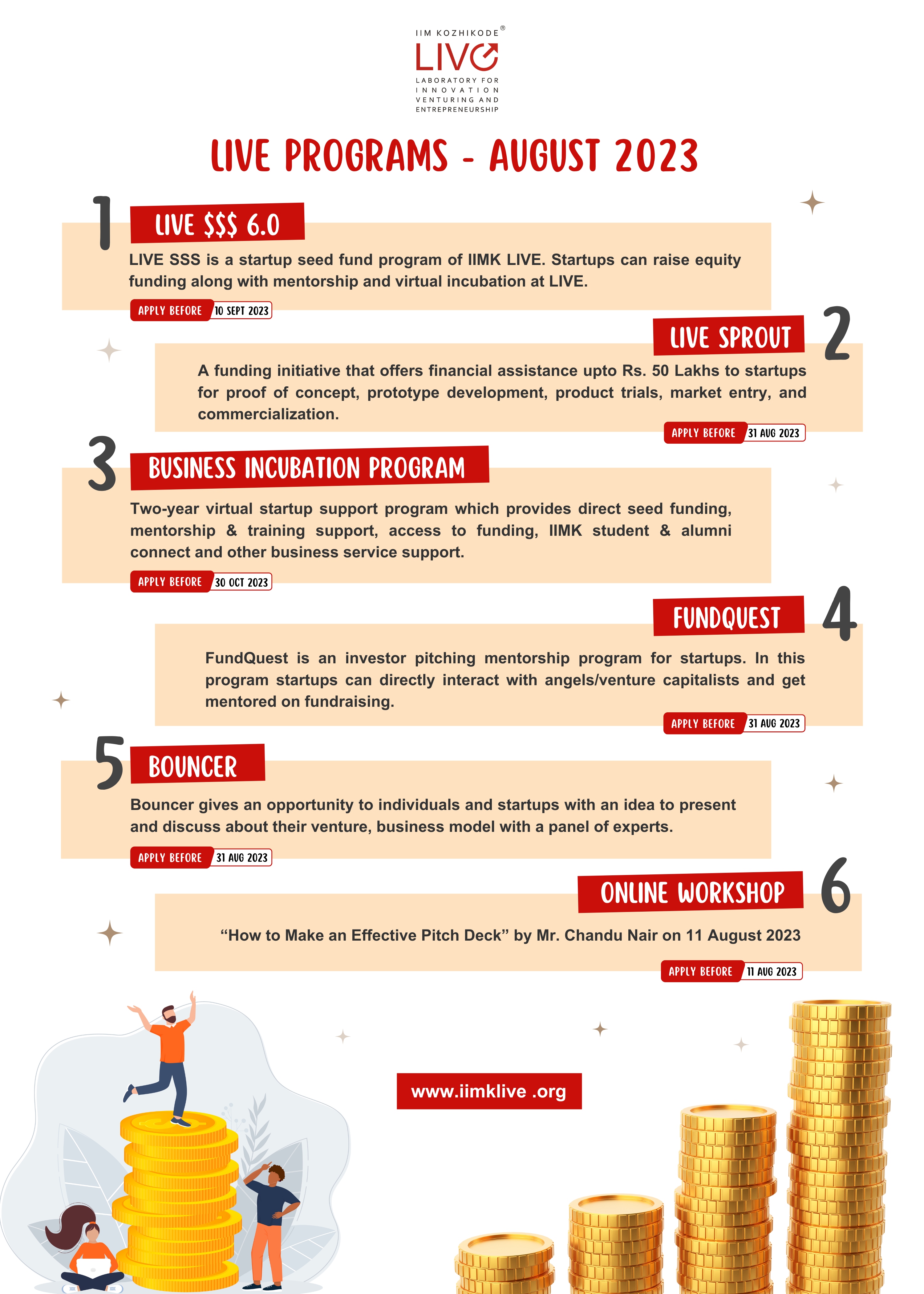 Dear Alumnus, 
IIMK LIVE is inviting applications towards its Startup Funding Programs.  As part of these seed fund programs the Centre can invest upto Rs. 50 lakhs per startup. Alumni entrepreneurs working on innovative products/solutions may apply for these funding schemes. 
Funding Programs
LIVE $$$ 6.0:
LIVE SSS is an equity-based seed fund program to support startups at the commercialization stage. Selected startups can receive seed funds upto Rs. 1 Crore.
View Details: https://www.iimklive.org/livesss
Apply before 10 September 2023
LIVE Sprout:
A funding initiative that offers financial assistance upto Rs. 50 Lakhs to startups for proof of concept, prototype development, product trials, market entry, and commercialization. The applicant startup should be less than 2-year-old from the date of incorporation at the time of application. 
Apply before 31 August 2023
View Details: https://www.iimklive.org/sprout
Apart from this, alumni can also apply for other programs organized by the center:
https://drive.google.com/file/d/19cx3hMasZaXWHBSX8_9TO9Uqy_QE-oxs/view?usp=sharing
For more details visit www.iimklive.org
Last date to apply for these programs is 31st August 2023
For any queries about this event you may reach out to us  enquiry@iimklive.org
--
LIVEly,
Team - IIMK LIVE
Find us on: Facebook |  Twitter | Instagram| Website| Whatsapp| Youtube
---
Views: 212 | Posted on: 08-Aug-2023
---